BRIGITTE VALLÉE'S RESEARCH, PREPRINTS, AND REPRINTS

This webpage describes my research in a detailed manner until 2007. For a description of my recent results since then, and a list of publications, see here.
Ages ago, I started my career in the Department of Mathematics at the University of Caen. My interests then gradually shifted from "pure" number theory to computational number theory and related problems in cryptography, most notably integer factorization and lattice reduction. In this area, I obtained average-case bounds for the celebrated LLL algorithms and once held the world record for the best proven bound on the complexity of integer factorization. Currently the core of my work deals with analysis of algorithms. I am especially interested in applications of dynamical systems theory to some of the major algorithms and data structures studied by theoretical computer scientists. I feel for instance responsible for the introduction of transfer operators in this area. My most recent contributions deal with the average-case analysis of lattice reduction in two or more dimensions, the exact analysis of a rich class of continued fraction algorithms, the application of transfer operators to analytic information theory, and the related analysis of digital trees ("tries") under nonuniform input models.
My personal research logo: the discs associated with continued fraction expansions of real numbers.

2007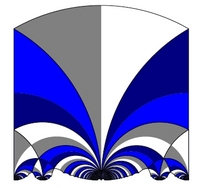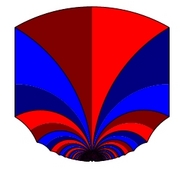 Festoons appearing in the analysis of lattice reduction.
Lattice Reduction in Two Dimensions: Analyses under Realistic Probabilistic Models. By Brigitte Vallée and Antonio Vera. Version of March 2007; submitted to AofA07 (International Conference on Analysis of Algorithms).

The Gaussian algorithm for lattice reduction in dimension 2 is precisely analysed under a class of realistic probabilistic models, which are of interest when applying the Gauss algorithm "inside" the LLL algorithm. The proofs deal with the underlying dynamical systems and transfer operators. All the main parameters are studied: execution parameters which describe the behaviour of the algorithm itself as well as output parameters, which describe the geometry of reduced bases.

2006


2005
The Lyapunov Tortoise and the Dyadic Hare. By Benoît Daireaux, Véronique Maume-Deschamps, and Brigitte Vallée. Here is the version for the Analysis of Algorithms (AofA'05) Conference, Barcelona, June 2005, whose proceedings appear in the journal Discrete Mathematics and Theoretical Computer Science. It is relative to the gcd algorithm directed by Least Significant Bits (LSB algorithm). The analysis is non-standard: it requires us to introduce a dynamical system, which is both a 2-adic extension and a real extension of the algorithm---this leads us to the framework of products of random matrices and Lyapunov exponents. The algorithm can be viewed as a race between a "dyadic" hare with a speed of 2 bits by step and a "real" tortoise with a speed equal to about 0.05 bits by step. Even if the tortoise starts before the hare, the hare easily catches up with the tortoise [unlike in Aesop's fable!], and the algorithm terminates. Oh, by the way, who invented the LSB algorithm? It's Damien Stehlé and Paul Zimmermann, who are both from INRIA Nancy.
Also available in Postscript.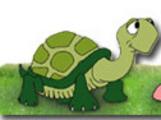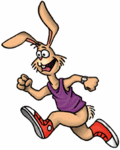 The 3-D landscape of the number of "turns" of the Euclidean algorithm,
whose LSB version has to do with the tortoise and the hare race.

2004
Hausdorff Dimension of Real Numbers with Bounded Digit Averages, by Brigitte Vallée and Eda Cesaratto. What is the measure of numbers whose binary representation has in all its prefixes more 0's than 1's? Easy! This has null measure. Yes, but... Can we talk of Hausdorff dimension and such? We address a question of this sort (and even solve it) ---Guess what!--- for continued fraction expansions... This paper considers numeration schemes, defined in terms of dynamical systems and studies the set of reals which obey some constraints on their digits. In this general setting, (almost) all sets have zero Lebesgue measure, even though the nature of the constraints and the numeration schemes are very different. Sets of zero measure appear in many areas of science, and Hausdorff dimension has shown to be an appropriate tool for studying their nature. Here, the main example of interest deals with reals all of whose digit averages in a continued fraction expansion are bounded by M. This setting can be translated in terms of random walks where each step performed depends on the present digit, and walks under study are constrained to be always under a line of slope M. We provide a characterization of the Hausdorff dimension s(M) in terms of the dominant eigenvalue of the weighted transfer operator relative to the dynamical system. Currently submitted to a journal. Also available in Postscript.

Keywords: Dynamical systems, Transfer operator, Hausdorff dimension, Quasi-Powers Theorem, Large deviations, Shifting of the mean, Mellin transform analysis.
Real Numbers with Bounded Digit Averages. Here is the shorter version (everything is relative!) which appeared in the Third Colloquium on Combinatorics, Probability, Trees, and Algorithms [or a permutation thereof], Vienna, September 2004.

Euclidean Dynamics (slides) These are slides of an invited lecture given at the 10th International Workshop on Analysis of Algorithms, Berkeley, June 2004. It surveys dynamical methos in the context of number-theoretic algorithms. I was proud to produce my first generation of slides in LaTeX (only a few scribbled figures are still missing). This version has been especially compiled for all friends from the Southern Hemisphere! :-)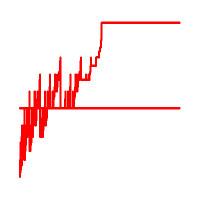 A plot of the maximum-digit-average function for binary representations.

2003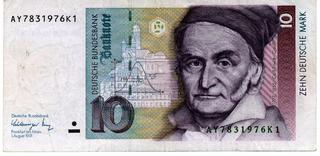 The German 10DM banknote with the effigy of Gauss, the discoverer of the (in)famous Bell curve.

2002

2001
Hidden Pattern Statistics. A pattern is "hidden" in a text if it appears somewhere in the text, but the letters of the pattern do not necessarily occur contiguously. For instance Brigitte is "hidden" inside the following sentence of Hamlet: "Bring with thee airs from heaven or blasts from hell,..." How significant is this? [guess!] Well, here we characterise the distribution of the number of occurrences of a fixed pattern in a random text, and show that it is asymptoticaly normal. Thus, you can set your own thresholds in order to decide what is meaningful and what is not. The distances between letters may be constrained or not, and still the law has to be gaussian! The problem was initially motivated by intrusion detection in computer security, but is general enough that it should be of [some?] relevance to computational biology. The analysis is, I think, an amusing mix of combinatorial, analytic, and probabilistic methods. Joint work with Philippe Flajolet, Yves Guivarc'h, and Wojtek Szpankowski. In Proceedings of ICALP'01, Crete, July 2001. Lecture Notes in Computer Science, Vol. 2076, pp. 152--165.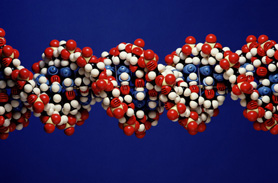 Hidden words are everywhere to be found. But what does finding a particular hidden word really mean?

2000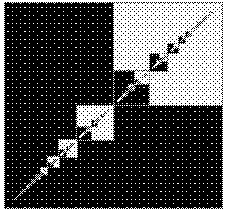 Fundamental squares are fundamental when comparing two fractions, but also occasionally in computational geometry!

1999
Dynamical sources in information theory : fundamental intervals and word prefixes. Information theory deals with the way sources produce sequences of symbols (digits, letters) and with the associated metric phenomena. Traditional applications, following Shannon, are in the area of error correction and data compression. This paper shows how a number of characteristics of sources can be analysed precisely in a unified framework based on expanding maps of the interval and their companion transfer operators. A special role is played by the thinning process that successively refines a partition of the interval by appending a new digit. The approach presented has some benefits. It unifies the memoryless models (where letters are drawn independently according to a common probability distribution), the Markovian models (that allow bounded correlations between letters), and a wide class of sources with unboundedly correlated digits, like the digits of continued fraction expansions. This allows for a general treatment of a wide class of sources and it eventually leads, as shown in the next paper listed, to a simple abstract analysis of digital trees.
In Algorithmica 29(1/2), 2001, pp. 262-306.
Dynamical Sources in Information Theory: A General Analysis of Trie Structures. What is a digital tree, also known in computer science jargon as a "trie"? Well, assume you want to store a dictionary of the Hittite language. You can group together all the words that start with an A and put them in a separate fascicle. No need to repeat the initial A, of course. Then you do the same with B, C, &c. If you proceed recursively (on the second letter, and so on), you transform your set of words composing the dictionary into a tree: this is precisely a digital tree. Such trees have been known for a long time (starting with Fredkin in 1959) to be an efficient data structure. The present paper shows the role of fundamental intervals and word prefixes (as explored in the previous paper) in providing in easy access to probabilistic properties of randomly generated tries. In particular, fundamental constants, like the entropy and the probability of [digit] coincidence, themselves related to spectral properties of transfer operators are main characters of the story. A consequence of the present study is an abstract analysis of tries that encompasses most existing results on height, size, and path length and even gives a bit more!
Joint paper with Julien Clément and Philippe Flajolet; In Algorithmica 29(1/2), 2001, pp. 307-369.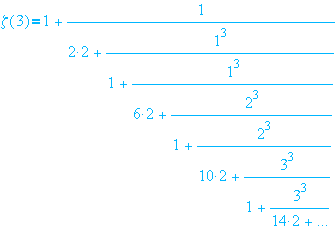 Apéry's famous continued fraction for zeta(3). What is a typical contnued fraction like? And what does it have to say about algorithms?

1998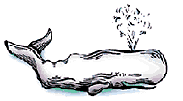 "Moby Dick" serves to compare theoretical estimates to simulations in the case of trie algorithms.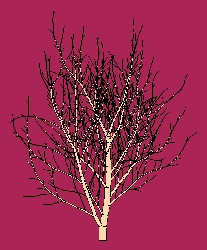 One of Devroye's random tree simulations.

1997
Opérateurs de Ruelle généralisés et analyse en moyenne des algorithmes d'Euclide et de Gauss [in French]. The main theme of this paper is: What happens when the Euclidean algorithm or the Gaussian algorithm for lattice reduction are subjected to nonuniform data? Here, I treat the case of a general real-analytic density. The standard framework of Ruelle operators no longer applies. I then generalize Ruelle operators in such a way that they transform analytic functions of two complex variables. This new generalization gives rise to operators that are better suited to fine-grain analysis of iterates of the continued fraction transformation, while their complete spectrum can be related to that of the classical Ruelle-Mayer operator. As a consequence, very precise characterizations of the complexity of both algorithms under nonuniform input models are derived. (Preliminary version of Acta Informatica, LXXXI.2 (1997), pp. 101-144.)
Dynamical Systems and the Analysis of General Tries . Digital trees or tries are a fundamental data structure that implements dictionary built on words or the digital structure of data. They support efficiently insertions, deletions, and all sorts of queries, including partial match. (For these reasons they have been used in the computerization of the Oxford English Dictionary.) With the exception of Devroye's work who considered a general density model, most analyses have focussed on fairly simple randomness models, like Bernoulli or Markov. I introduce here a new framework that is capable of dealing with (unboundedly) correlated digits in information sources. Under this framework, the main characteristics of digital trees, namely, height, size, or path length, are precisely analysed.
(This paper was presented at the RALCOM'97 meeting in Santorini Island (!), Greece, October 1997.)
An average-case analysis of the Gaussian algorithm for lattice reduction, by H. Daudé, P. Flajolet, and B. Vallée. A two-dimensional lattice has infinitely many bases. However only one of these bases has a "nice" aspect and is formed with nearly orthogonal and reasonably small vectors --the reduced basis. Lattice reduction aims to find such a basis. The problem intervenes in many questions of number theory (e.g., the reduction of quadratic forms) and Gauss proposed an essentially optimal algorithm based on a modified continued fraction algorithm. The worst case of this reduction algorithm is logarithmic in the size of the input vectors. Here , we prove that the average case number of steps is asymptotically constant and that the probability of executing a large number of reduction steps decays exponentially. Our treatment characterizes the behaviour of the algorithm in terms of a conditional invariant measure that is related to the transfer operator of classical continued fractions. In a way, analytically, the Gaussian algorithm is like a version of the GCD algorithms that would "leak" (!).
(Appears in Combinatorics, Probability and Computing 6 (4), 1997, pp. 397-433; the version available here is a preliminary one: INRIA, RR 2798, February 1996.)

Three transformations of the interval iterate to give rise to binary representations, standard continued fractions, and centred continued fractions.


Back to my Home Page.